General Information
Chuck and Key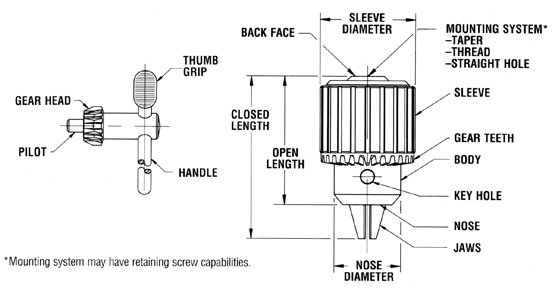 ---
Tool Holders
TOOL AND WORK HOLDER DEFINITIONS
ARBOR: Chuck mounting device used to adapt standardized chuck mounts to various machine spindle tapers. Arbors are also used to adapt mounts to other rotating devices such as machine spindles and lathes.

SLEEVE: Adapter for arbors when the machine spindle requires a larger taper than is available on the arbor.

EXTENSION SOCKET: Adapting device which increases effective spindle length and provides more flexibility when adapting to various taper sizes.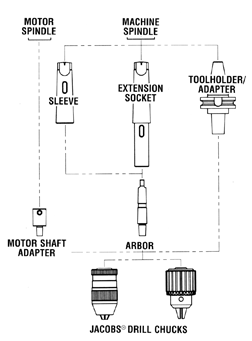 Technical Information
Jacobs Tapers Mounts
Jacobs Standard Tape Size No.
0 JT 33 JT
1 JT 6 JT
2 JT Short 3 JT
2 JT 4 JT
5 JT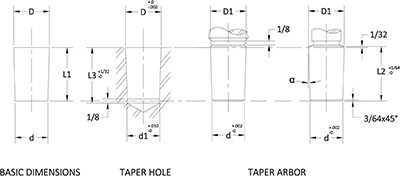 ---
Jacobs Standard Threaded Mounts
Jacobs Common Standard Threaded Mount Size:
5/16 - 24 UNF
3/8 - 24 UNF
1/2 - 20 UNF
5/8 - 16 UNF
3/4 - 16 UNF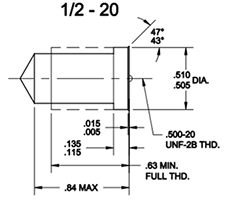 ---
Jacobs Standard Straight Mount
0.625STR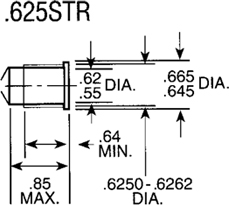 ---
DIN Tapers
DIN tapered sections are identical with the following Morse tapers:
No. 1, for tapers B10 and B12
No. 2, for tapers B16 and B18
No. 3, for tapers B22 and B24


---
Morse Tapers
Nos. 1 to 6 METRIC
Nos. 1 to 6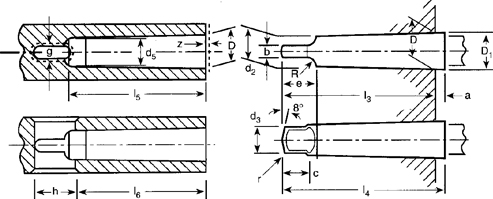 Service and Repair
How to mount or remove the chuck?
---
How to repair a keyed chuck?
FQA
Why should I use Jacobs Chucks?




"Get a Better Grip™!" Jacobs® Chuck is one of the most popular brands in the world. With over 100+ years industry experiences and strong reputation, Jacobs® Chuck provides you the most reliable and top quality products through our world-class innovation and world-class production expertise. Our worldwide sales networks and distribution partners

,

,

,

,

,

or national retailers and hardware stores-

,

,

,

and

can satisfy any of your job requirements.




How do I choose a replacement drill chuck for my Hammer Power Drill?




Below guide will help you determine what type of drill chuck is suitable for your power or hammer drill.

Step 1. Determine what kind of replacement drill chuck you want - a keyed chuck or keyless chuck.

Over the years, keyless chucks have been widely used for handheld power tool drills, due to their improving grip torque and convenience.




Drill Chuck Sleeve Type




Step 2. If you prefer replacement keyless chucks, then you have to know what type of keyless chuck you will need - a single sleeve keyless chuck or a double-sleeve chuck.

You can simply determine it by checking your current chuck. If your current chuck is a keyed chuck or a double sleeve chuck, then you will need a replacement double-sleeve keyless chuck. On the other hand, if your current chuck is a single sleeve chuck, then you should get a replacement single sleeve chuck.




Step 3. Confirm the threaded mount size (spindle size) on the chuck.

3/8"-24 threaded mount for 3/8" capacity drill chucks and 1/2"-20 threaded mount for 1/2" capacity drill chucks, but there are some exceptions where just the opposite may occur. To be safe, always check the threaded mount before you buy replacement drill chucks.




Where can I buy a spare key?

Where can I buy keyed chucks and keyless chucks?

What is Jacobs' Chuck warranty policy?




All of Jacobs® chucks, chuck key, tool holders, work holders and accessories, manufactured or distributed by The Jacobs® Chuck Manufacturing Company and the Apex Tool Group, are warranted to be free from defects in materials or workmanship for one year from the date of purchase.The warranty applies only to the first person who buys the products directly from a Jacobs® products distributor representative. The Jacobs® Chuck Manufacturing Company and the Apex Tool Group cannot be responsible for products which have been abused, misused, or modified. This warranty does not apply to any parts, components, or accessories not manufactured by The Jacobs® Chuck Manufacturing Company and the Apex Tool Group.